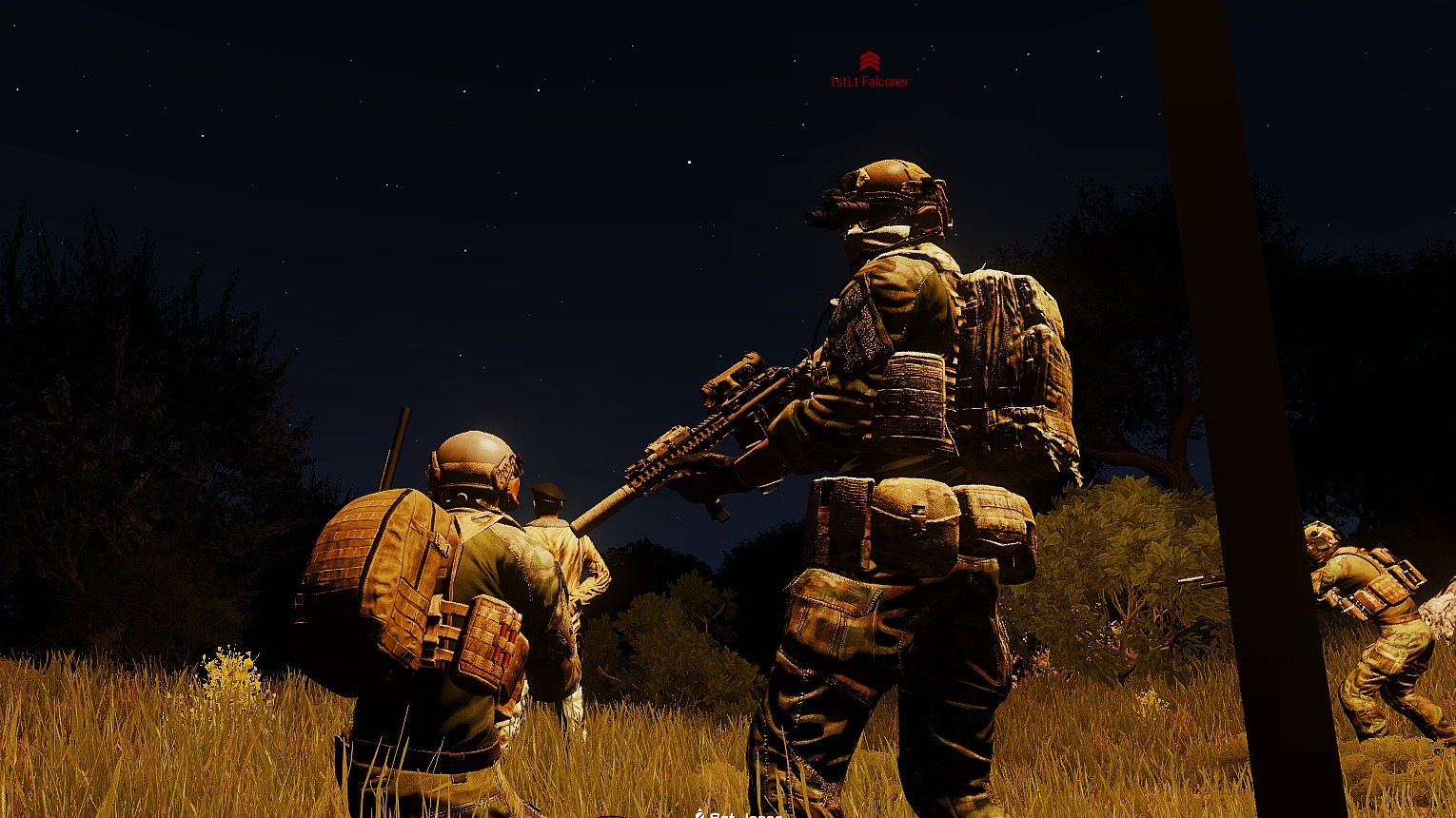 MSgt Falconer
General Enlisted
Content Count

1,050

Joined

Last visited

Days Won

51
About MSgt Falconer
Rank

0372 Critical Skills Operator


Birthday

04/01/1992
Unit
1) Qualified MOS

0331 Machine Gunner | 0372 Critical Skills Operator | HM-8043 S.A.R.C. | 0370 Special Operations Officer

2) School of Infantry
3) Corporal's Courses

CPLC 101 | CPLC 102 | CPLC 103

4) Sergeant's Courses

SGTC 201 | SGTC 202 | SGTC 203

7) Auxiliary Qualifications

CLS | E&D | MFF | CD | MG | AT | SERE | MH-6 | ZUES

8) Date of Rank
Service Number
Two helicopters go down over Malden as violence surges Around midnight last night townspeople in Arudy were woken up by a loud noise and a swift power outage, believed to have been the result of a US military helicopter crash landing a short distance outside the town. A spokesperson for the Malden autonomy confirmed that EMS assets were held back on request by the US military while they dealt with the crash. By the time anybody got close the wreckage had been recovered although the terrain showed clear signs of a heavy impact along with a knocked down electrical pole. The crash site outside Arudy. The wreckage was removed during the night by US forces. Power was restored to the entire town by noon and the US military contingent on the island communicated their apologies via the governor's office and financial compensation to the affected residents was forthcoming. While information is sparse, the US military operation is believed to have been a step in the combating of the rampant lawlessness on Malden. The town of Arudy was believed to contain a insurgent weapons cache as well as some high ranking members of the insurgency. The military operation was sanctioned by local authorities. The need to find and destroy these weapons caches was on full display this night as a civilian helicopter conducting an urgent transportation of medical equipment was shot down by a insurgent ground-to-air missile and crashed on a hillside. EMS assets were quickly dispatched to the location and according to reports the 3 people onboard were in critical condition and have been flown to Malta for emergency medical treatment. The wreckage of the civilian helicopter shot down by an insurgent ground-to-air missile The Maldenese athorities were reluctant to comment on when these extensive military and police actions may be brought to an end and many are asking themselves if these actions have not simply made Maldens problems worse. ADANews will, as always, continue to monitor the situation as it develops. Simon Tam ADANews

Surge in violence as Maltese government cracks down on lawless Malden The last few days has seen a significant spike in violence on the small Mediterranean island of Malden. While nominally under maltese rule, Malden has long been neglected by the government in Valletta with the local governor ruling nearly unrestricted. With the collapse of Libya and the following migrant and refugee crisis Malden became a haven for pirates, smugglers and other criminal elements with the Maltese government both unwilling and unable to do much about the deteriorating situation. Following a suggestion from the US government american special forces have reportedly been deployed to Malden although the pentagon was unwilling to disclose any more details than that. Local sources however paint a clearer picture. Reports of suspicious vehicles traveling in convoys, heavily armed and uniformed individuals wearing gas masks, sudden eruptions of heavy gunfire, military style aircrafts flying low and at high speeds followed by explosions have all been circulating in local media. Maltese prime minister Enrico Aldani held a press conference yesterday stating: "My government is taking drastic steps to restore law and order to the autonomous territory of Malden. Together with our American allies we are conducting both law enforcement and combat operations against the bandits, insurgents and terrorists that have been using Malden as a base for their illegal operations in the Mediterranean sea. Furthermore I wish to assure the people of Malden that their autonomy will not be challenged in any way following these operations and we are conducting them fully within the laws of the autonomous territory of Malden." The above statement has received mixed reception among the population of Malden. While the influx of migrants and the sharp rise in crime the population of Malden are eager to see a return to normalcy. Concerns have been raised however that the government in Valletta, despite statements to the contrary, intends to clamp down on the autonomy Malden has long enjoyed. ADA News will continue to monitor the situation as it develops. Simon Tam ADANews

MSgt Falconer replied to SSgt Boyle's topic in Game Room

MSgt Falconer replied to SSgt Spears's topic in Game Room

MSgt Falconer replied to SSgt Boyle's topic in Game Room

5

Suicide bombing in Iran. Ayatollah confirmed dead. A large scale suicide bombing took place this morning in Tehran. The Ayatollah accompanied by IRGC forces and several high ranking members of the Iranian government and clergy, was attending morning prayer at the Mirsa Mousa Mosque when two vehicle-borne IEDs were driven straight through the security perimeter. The vehicles, one large URAL brand truck and a smaller pickup truck, both loaded with explosives proceeded to ram into the main entrance where the Ayatollah was located along with several aides and members of the Iranian clergy. The blast levelled most of the entrance complex to the Mosque and instantly killed the Ayatollah as well as 36 other people. Alongside the 36 dead another 140 were wounded with most of them being evacuated to local hospitals during the day. A handful of people were extracted from the rubble during the course of the day and most of them were treated on site by local paramedics before being taken to hospital. A handful of people remained to be treated on site. This attack comes at a precarious time for Iran. With the country wracked by civil unrest, kurdish independence and Saudi military occupation of the critical Straits of Hormuz, international experts are predicting drastic action will be taken by the Iranian government in the very near future. No member of the Iranian government could be reached in the immediate aftermath but natonwide martial law has been declared with IRGC and regular Iranian military seen rounding up civilians and manning checkpoints in most major cities. ADA News will continue to monitor this seeming escalating situation. Malcolm Reynolds ADA News Middle East Division

Uprising in Iran results in Kurdish statehood. Ever since the uprising began in late 2019 following Iran's bungled response to American military action in the Straits of Hormuz the Ayatollah has struggled to regain control of the Kurdish dominated borderlands with Iraq and Turkey. Multiple attempts to regain control via military force have failed as the Kurdish rebels are firmly entrenched in the westernmost provinces of Iran and hold significant stockpiles of advanced weapons allegedly provided by NATO in an effort to further weaken Iran. Regardless of foreign aid or not the Kurds seem like they are here to stay. A spokesperson from the "Provisional Republic of Kurdistan" has approached Iraqi and US governments with the proposal of uniting Iranian and Iraqi Kurdistan into a coherent Kurdish state. Given the Iraqi Kurds already extensive autonomy the US Government has urged their Iraqi counterparts to accept the proposal resulting in the establishment of the Republic of Kurdistan last week. Kurdish YPG forces in Iranian Kurdistan celebrate a victory over Iranian forces. Bringing together the war-torn territory of the new nation falls initially to president appointee Berewan Romet. In accordance with the Treaty of Mosul establishing Kurdistan he is to rule the country for a period of 2 years as a functional apparatus of state is set up. After this initial period open elections are to be held every 4 years. The status of the Kurdish minorities in Syria and Turkey are expected to become hotly debated topics given Syria's and Turkeys refusal to participate in the Kurdish nationbuilding. For now however Iranian and Iraqi Kurdistan are being united with the Turkish and Syrian Kurds being left out. Some talks about the possibility of a population transfer has been brought up but has yet to manifest in anything substantial. As was expected the Ayatollah in Tehran has condemned this step describing it as "Another American imperialist venture" and "An attempt to utterly dismantle the Islamic Republic of Iran". However with ever growing dissent at home and multiple military setbacks against the Kurds there seems to be very little Iran is capable of doing to prevent this redrawing of the borders in the Middle East. The new Republic of Kurdistan Simon Tam ADA News. Middle East Division

6

@Capt HartSomething for S2 to take note of. No using indestructible lights.

40:40 Has the advantage of NVGs in a night fight, stands right infront of a floodlight.... Im sure the insurgent who shot Winters was very grateful.

MSgt Falconer replied to GySgt Cole's topic in Tun Tavern

MSgt Falconer replied to SSgt Boyle's topic in Game Room

MSgt Falconer replied to SSgt Spears's topic in Tun Tavern

Do we have M995 "blacktip" in our regular arsenal? Also using it against unarmored targets would cause the bullet to zip right through the body without doing its usual tumbling and fragmenting. Thus doing less damage but I dont think ARMA simulates that.

MSgt Falconer replied to SSgt Boyle's topic in Game Room

Thats an SS rank. The 21st is free of those weekend warriors.